In view of the absolutly magnificent smashing of THE STAIN MERGE disgrace on monday night; Let us review Five of the clubs best victories that filled supporters with that far too rare feeling of superiority, hope and glory. I have only considered REGULAR season games, so no finals etc.
Rd 1 1967. Sharks 11 Easts 5. Sydney Sports Ground.
When the sharks started off they were a bunch of wide eyed local youngsters (amateurs), a few reasonable journeymen and one experienced hard head. The shire was far flung from the city, and our facilities were sub standard, even for those days. No-one gave them a chance against more fancied and established clubs. What a welcome surprise to belt the tri-colours in an away match to open our first grade account.
Rd 22 2002. Sharks 64 Newcastle 14.
Unlike other floggings we have dished out, going into this match things were evenly poised. Newcastle had belted us earlier in the year, they were the reigning premiers and were pretty much full strength. This was an example of
everything
going our way on the field. The cherry on top was a full field effort where a rampaging Paul Mellor swatted away a Newcastle defender 5 or six times on the way to the try line. Apparently the boys sang the victory song at half time.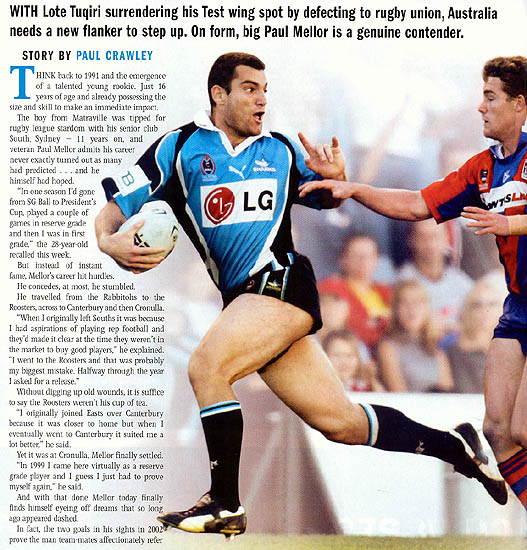 Rd 22 1988. Sharks 16 St George 14.
This match ensured that we won our first minor premiership. We were down by 6 or 8 points and a couple of bustling tries scored in front of beer hill late in the game meant we got the bikkies. To this point the crowd of 18,500 was a ground record. The boys did a lap of honour around the big boy with the J.J Giltinan shield, which Gav Miller later recounted as a "mistake".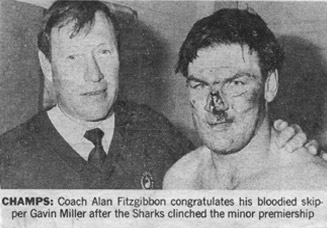 http://www.4eva.com/videos/1988_round_22.wmv
Rd 24 2005. Sharks 68 Manly 6
The best day at Shark Park Ive ever had. Manly were depleted to begin with and then injuries to Brett Stewart and someone else meant they only had 2 players on the bench. In glorious winter sunshine we ran rampant to record the clubs biggest ever winning margin. Against the old enemy. In heritage round while wearing a "retro" strip. The only time Ive ever seen the bar sell KB too.
http://www.youtube.com/watch?v=98rntSx9Ll8
Rd 2 2011 Sharks 16 St George Illawarra 10
The Dragons are world champs, reigning premiers and havent lost a game in months. The sharks have endured arguably their worst 2 years of on field performances and are $6.00 outsiders. In heavy rain the sharks smash, grind, belt and crunch their fancied rivals into the mud restoring pride back into the club.